With the uptick in COVID-19 cases in the county and with all other village buildings closed, the Library Board has made the difficult decision to keep the library building closed to the public for now. This decision was not made lightly and will be revisited again soon. 
We know how important the library is to our community. While we are not able to open our building, we are still doing our best to serve you!
Curbside Pick-Up
No appointment needed! If you have items waiting for you on our holds shelf you may pick them up during these times without an appointment.
Mondays, Tuesdays, & Wednesdays from 11:30am - 7:30pm
Thursdays & Fridays from 8:30am -3:30pm
Saturdays from 9:00am -2:30pm
Librarian's Choice
Did you know that you can ask the Youth Service Librarians to pull materials for your child or teen? Get a selection of books, audiobooks, movies, or other materials!
To make a request, complete the Curbside Pick-Up form and select 'Yes' to the librarian's choice and answer questions about the interests of your reader.
Returning Materials
Our outside book drop is open 24/7. 
Once items are returned, they will be quarantined before they are checked in.
No Late Fees through March 2021!
There will be no overdue fines through the end of March 2021 for items checked out at Oregon Library and returned by March 31st, 2021!  Charges for lost or damaged materials will still apply.  Lost charges will appear on your account if an item is more than 4 weeks overdue - that charge will be waived once the item is returned.
Online Programs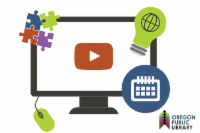 If you missed a program, check out our YouTube Channel. Many of our programs are recorded and you can watch them after the event.
Print & Copy Services
You can send a print job to our wi-fi printing service and then pick up your prints. More on Printing 
We also have a photocopier and can make copies for you. More on Photocopying