Contact Kelly the Librarian at kallen [at] oregonlibrary.org (subject: Online%20Resources%20for%20Learners) (kallen[at]oregonlibrary[dot]org) if you have any questions about Teen Services.
Image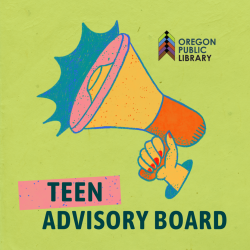 Teen Advisory Board: Have a Voice at the Library
Our next meeting is TBD.
If you are interested in TAB and cannot attend an upcoming meeting, complete this online form if you are interested in TAB.
The Teen Advisory Board (TAB) is a volunteer group of teens that offers suggestions and provides input to the Youth Services Librarian Kelly about teen reading interests, activities, programming, and space planning. Attend the Kick-off to learn more! Pizza and refreshments will be served!
More on the Teen Advisory Board (TAB)