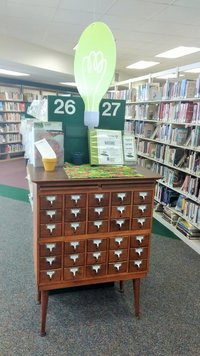 Borrowing seeds from Oregon Public Library is free and easy!
Check out seeds.
Grow your plants and enjoy the harvest.
Collect and return some seeds if you are able. There is no penalty for not returning seeds.
By participating in the seed library you are helping to create a culture of sharing and community. Saving seeds leads to a sustainable future for your community and your garden.
Available Seeds
Here are the seeds that are available in our Seed Library.
Herbs
Basil
Chives
Cilantro
Dill (out of stock)
Lemon Balm
Parsley
Sage
Thyme
Flowers
Aster (out of stock)
Butterfly Weed (out of stock)
Hollyhock
Marigold (out of stock)
Sunflower (out of stock)
Vegetables
Beans 
Carrot
Eggplant
Kale (out of stock)
Lettuce 
Pea (out of stock)
Pepper, Jalapeno
Pepper, King of the North (out of stock)
Raddish
Spinach
Tomato, Tommy Toe
Tomato, Wisconsin 55
Planting Instructions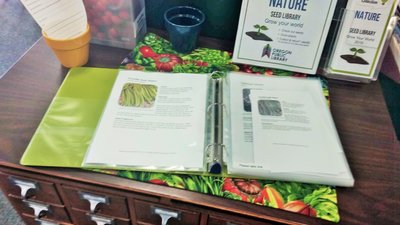 We have information and planting instructions on all of our seeds. When you pick up seeds, we will include the instructions for growing. 
For an online copy of growing instructions, you can download our Planting & Seed Collection BInder (PDF).
Return Seeds
Save the envelope that your seeds came in. When you have collected seeds, put the seeds in the envelope and return them to the library.
If you lost the envelope, please return the seeds as if they are a donation.
Donate Seeds
We will gladly accept seed donations! If seeds are donated that do not fit our requirements, they will be given away for free. 
Use the Seed Donation Form (PDF) and return the seeds to the library.
Seeds must be:
open pollinated variety
for a non-invasive plant
More Information
For even more information, contact Kara Ripley at kripley@oregonlibrary.org